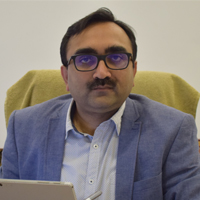 Dr. Parag Sanghani
Provost
P. P. Savani University
Provost's Message
Higher Education is not just about the subjects that are learnt and taught in colleges. Becoming a graduate is not about gathering certificates and feeling proud of oneself. It is instead an exercise for learning life skills that can be unbelievably exciting if only we wish to jump onto the train of experience and take a trip to every conceivable place on the earth. However, the thirst for knowledge is not just restricted to the child. It is also essential for parents and teachers to keep updating their own knowledge bank by keeping their eyes and ears open, by reading as much as possible and ensuring that children develop these habits as well. Our mission in this journey of education is to provide positive catalytic impulses to every student to stretch his/her inherent learning competencies through a self-discovery process."
At PPSU, the uniqueness of each learner is recognized, nurtured and treasured. Emphasis is on LEARNING and not just on teaching. Education is a complete process that leads to the attainment of the full potential of the child. Our endeavor is to equip our students with life-skills to face the real world – be it planning, organizing, deciding, questioning, reasoning, analyzing, team-building, communicating effectively or dealing with challenges confidently.
Our focus is to develop our students as global citizens with tolerance, respect and appreciation of diverse cultures and religions for a lifetime learning experience. They should be self-motivated, independent, confident decision makers to take up on various leadership roles in future.
At PPSU, we also equip our students with technological supremacy and help them integrate it with values, morals and our cultural legacy. The PPSU curriculum has been painstakingly planned on scientific guidelines to provide students with intellectual stimulation, physical robustness, social adaptability, emotional independence and leadership qualities.
I invite students from different walks of life to be a part of this progressive platform of education and gain from our state of art facilities and teaching methodologies. Our committed faculty members, well developed curriculum and excellent facilities ensure that they enhance their skills, have impressive qualifications, embark on a global career and achieve the heights of success.
We welcome them to take their life to a newer height and shape their vibrant future at our campus. I wish a bright future ahead to all.
Dr. Sanghani is an Endeavour Fellow from QUT, Australia and has a global exposure of education systems in Europe, Australia and UK. He has worked with a leading university in UAE as the Head of Academics. He has in the past handled 250 Million USD PPP mode projects in education and infrastructure sector in India.
He has trained several executives in different parts of world. For several years he has taught subjects like Innovation & Creativity, Information Systems and Operation Management to students globally. He has published more than twenty research papers and articles in journals of great repute. He has worked with agencies like NAAC, India and QS, Singapore to enhance the quality of Higher education.
Currently Dr. Parag Sanghani is ProVost of P P Savani University.