Foreign Language Faculty
---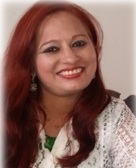 Yoshita Dalal
Profession
Founder and Director of Modern Foreign Language Institute.
Director at P.P.Savani University Department of foreign language department, Kosamba
Head of AllianCeFrancaisesurat (recently in progress)
Associated with south gujarat chamber of commere
Visiting professor in Bhagwan Mahavir collage.
Author of 4 books in French, 3 books in German.
Profile
Knowing more than one language can give you a big boost professionally, and in today's economy, that's something everyone can use.
I started my career as a school teacher. Before that I was a home maker with a dream to explore myself. I learned French after completing the schooling as a hobby from the french natives itself. This became a turning point in my life. From a normal school teacher I started getting opportunities as language trainer ,translator an so on.but this was not the end and once again universe gave me the chance to explore other languages like german,Spanish,as well as chinese through the delegates who were there to have a deal with shell company.
And by the grace of my almighty in no time I was able to open my own institute of language named "MODERN FOREIGN LANGUAGE INSTITUTE".
Recently i my opening my institute at Bharuch,Navsari, and Bardoli and also internationally in Dubai by the end of February'18.
I also believe in social work as it's a beautiful thing when a career and passion come together,which connects you with the society. I had taught many students who were keen to explore the language but their economic condition was a barrier and so I decided to educate them without any fees.
I perceive myself as a precious daughter of my almighty and he will blessed me with all the great things in my life and he will keep me blessing with many more.